#travel las vegas
#
With its neon flashin' and one-armed bandits crashin', this bright light city is bound to set your soul on fire. Gambling. Glitter. Sexy entertainment. Gourmet restaurants. Swanky shops. Nightclubs galore. It's all here in a 24/7 desert bacchanalia that on occasion makes Dionysus and his pals come off like amateurs. And when the tumblin' dice reward you with stacks of chips that are oh so nice, you'll sing Viva Las Vegas!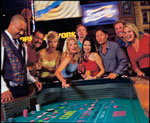 Vegas is constantly reinventing itself, discarding the old and donning the new. The King swivel-hipped his way out of the building long ago, of course. Liberace is gone. So are Siegfried Roy. And the storied casinos of Sin City's '60s and '70s heyday have been dropping like flies lately. The latest casualty is the Riviera hotel, a favorite haunt of the Rat Pack and a filming location for movies ranging from the original "Ocean's 11" to Martin Scorsese's "Casino." After a 60-year run the hotel closed its doors for good in 2015 to make way for a future expansion of the Las Vegas Convention Center.
Prior to "The Riv" biting the dust a different approach was taken with the legendary Sahara hotel, shuttered in 2011. Instead of a date with dynamite, the old girl's bones were dolled-up and reanimated as the glitzy SLS Las Vegas resort. Unlike the 1990s when old casinos were being demolished left and right, remodeling and repurposing make financial sense in today's tough economy.
Witness the gentrification of downtown's Fremont East District. Less than 10 years ago the sketchy corner of Fremont and 6th streets was no man's land, frequented only by the most dedicated of budget gamblers playing at the vintage El Cortez casino. Nowadays the intersection is crammed with old buildings-turned-nightspots. Steps away, hipster-geared shops and eateries inhabit the metal, cargo-shipping bins of the Downtown Container Park. UNLV college students and adventurous tourists have largely replaced the shady-looking street urchins who once plagued the area.
http://tdr.aaa.com/tdr-images/original/46528 http://tdr.aaa.com/tdr-images/preview/46528 http://tdr.aaa.com/tdr-images/thumbnail/46528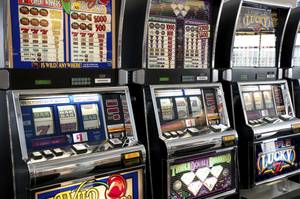 Though increasingly hard to find, the gloriously gaudy legacy of Vegas' golden years lives on. Stroll down the famed Strip and behold the finely aged Vegas cheese that is Caesars Palace. Hungry for more? Sit down to an old-school Italian dinner at a restaurant like Piero's or Battista's Hole in The Wall. On the flip side, the Cosmopolitan hotel, which opened in 2010 and eschews the vintage, tacky-fabulous aesthetic in favor of contemporary swank, is the place to see packs of celebutante wannabes strutting through the casino in bejeweled Manolo Blahniks.
http://tdr.aaa.com/tdr-images/original/144230 http://tdr.aaa.com/tdr-images/preview/144230 http://tdr.aaa.com/tdr-images/thumbnail/144230
What else is new? For starters, there's the High Roller observation wheel. The world's tallest Ferris wheel, it soars 550 feet into the Vegas sky and anchors the rear of the Strip's LINQ shopping/entertainment promenade. Next door, the ghastly old Imperial Palace property has been gussied up and turned into The LINQ resort. The Westgate Las Vegas resort (for decades known as the Hilton), in the midst of a top-to-bottom makeover, opened an impressive new Elvis Presley museum in 2015.
On the not-so-distant horizon? Continuing to take shape between the New York-New York and Monte Carlo resorts, the Park is an outdoor shopping/dining/entertainment plaza that's slated to open in April 2016. Its centerpiece will be a new 20,000-seat indoor concert and sports venue.
http://tdr.aaa.com/tdr-images/original/144346 http://tdr.aaa.com/tdr-images/preview/144346 http://tdr.aaa.com/tdr-images/thumbnail/144346
It's fantastically over the top, this town. Imagine seeing the Statue of Liberty, a lava-spewing volcano, a sphinx, drive-through wedding chapels, Canadian acrobats, gaggles of wild-eyed gamblers and mountains of all-you-can-eat shrimp on one street. That's Vegas, baby. But don't stop at the Strip. Make a date with Lady Luck and meet her downtown on Fremont Street for a taste of the original 24-Hour Town.
http://tdr.aaa.com/tdr-images/original/144120 http://tdr.aaa.com/tdr-images/preview/144120 http://tdr.aaa.com/tdr-images/thumbnail/144120
As for the finer things in life, there's no shortage of AAA Four and Five Diamond hotels and restaurants. If you can manage to tear yourself away from the video poker machine, there are outstanding museums, thrill rides and natural wonders to experience as well. Pace yourself. And remember that whatever happens here, stays here.
In Depth
Buy the ticket. Take the ride. These words of wisdom are courtesy of gonzo journalist Hunter S. Thompson, who came to Las Vegas in search of the American Dream. Welcome to a place where sensory stimulation trumps a meaningful travel experience and a royal flush beats all. Like the four dudes in the raunchy comedy The Hangover, you're here to have fun, plain and simple. And don't try to analyze it because there simply is no rational explanation for a faux pyramid visible from outer space.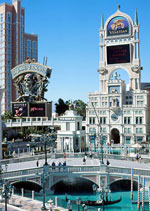 Over-the-top eye candy is Vegas' stock in trade. The world-famous Strip, a mere 4-mile stretch of Las Vegas Boulevard, is a glittery make-believe mini universe replete with a replica Brooklyn Bridge, dancing Italian fountains, a lava-spewing volcano and an Arthurian castle.
Colorful enough by day, the Strip becomes a phantasmagoria of blazing neon and LED signage once the sun goes down. A constant cross-section of humanity shuffles up and down the sidewalks, wandering (and often stumbling) in and out of casinos where dice tumble and wheels 'n reels spin to a soundtrack of joyous victory shouts, gone-bust groans and a background cacophony of slot machine beeps, blips and pings.
Although children and non-gamblers will find plenty of fun, it is the over-21 visitor preferably with money to burn at the blackjack table Vegas seeks to attract. The City Without Clocks tends to throw the body's natural rhythms for a loop; you may find yourself doubling down at 4 a.m. crashing hard at noon and eating pancakes for dinner. That's OK. Vegas doesn't judge. For a few days it allows you to escape the boss and the bills and be whomever you want to be.
Was it always this way? Hardly. The Strip was born with the opening of the El Rancho Vegas hotel in 1941. Things really took off when Benjamin Bugsy Siegel's Pink Flamingo Hotel Casino opened its doors 5 years later. Strip resorts in contrast to downtown casinos like Binion's Horseshoe and the Four Queens were more like stylish Hollywood clubs than rough-and-tumble gambling halls. Tourists arrived in droves to pull the slots and see the Chairman of the Board at the Sands.
Of course the swinging '60s Rat Pack era is long gone as are the days when the Mafia pulled strings. It was developer extraordinaire Steve Wynn who paved the way for the corporations that control the city to this day. In 1989 The Mirage set a new standard for lavishness and swept away the '80s doldrums while ushering in an age of contemporary megaresorts. Along with sleek towers, cartoonish architecture began springing up along the Strip. Exit Liberace. Enter Cirque du Soleil.
In 2015, another vestige of Vegas' past bit the dust when the circa 1955 Riviera Hotel closed to make way for a major expansion of the Las Vegas Convention Center. City boosters hope it will help reenergize the struggling North Strip area, which recently saw the opening of the swank SLS Las Vegas (formerly the Sahara hotel), the City of Rock outdoor concert venue and the groundbreaking on Asian-themed Resorts World Las Vegas, a $4-billion hotel/casino slated to open in 2018.
In 2016 a new South Strip entertainment/dining promenade between the New York-New York and Monte Carlo resorts will be completed its centerpiece a 20,000-seat indoor arena for concerts, sports and other events. Only time will tell if these projects become long-term success stories.
admin 07/12/2017
Posted In: NEWS
Tags: Guide, Las, Nevada, Travel, Vegas